The Somsen sticker was decorated with 'the green tree' from the Aalten coat of arms. This was probably taken from a solitary linden tree that served in the village as a 'judgement tree'.
written by: Sietzo Dijkhuizen
photographs: Ben Somsen
Since earlier this year, several hunderd Americans and Dutchmen have much larger families than they ever thought they had! After years of searching and researching for the origins of the Somsen family, a group of Dutchmen put together a book and organized a family reunion. Now there are people in both countries who know many more family members ... or at least, know they exist! The Somsen family: a world-wide network.
When internal revenue director Theo Somsen, 52, of Vaassen, The Netherlands, began dabbling with geneology some ten years ago, his main driving force was curiosity. Who were his ancestors? Where were his roots? Some family members he spoke to at a funeral told him that 'somewhere' there was someone else dipping into similar genealogical detective work. Telephone contact led him to a meeting with Derk Somsen. They compared the information they had each dug up 'till then and decided to do more together. This turned out to be the beginning of an immense job, culminating in the ultimate treasure of anyone working in geneology - a large publication in two languages and a family reunion that hundreds of people on both sides of the Atlantic are still talking and writing about.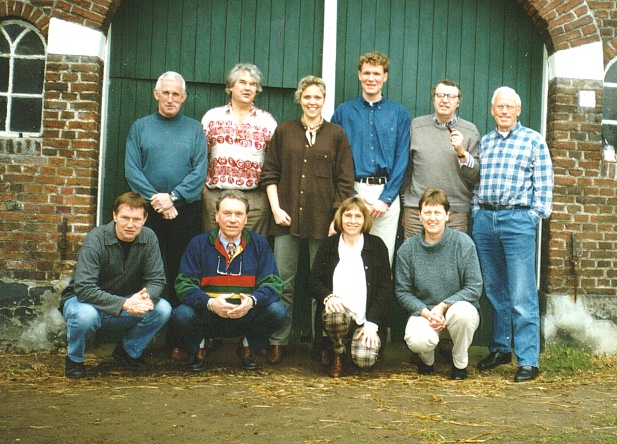 "It was the beginning of December 1993 that the plan evolved to polish the material we had about the Somsen family and to publish something about it - that is, a geneological story," says Theo. "Together with Derk, a family member who knows his way around geneological detective work, we guessed that the story was about two-thirds complete. The information should be published in a book, we thought, and to help that along, we started with a mailing in September 1995. By that time, we already had quite a list of Somsen addresses, and what we needed first was information to fill out what we already had. In January 1996, we started sounding people out to see if there was interest for a book about the adventures of the Somsen family and perhaps even a reunion - something that had been vaguely suggested here and there. We received a lot of enthusuastic reactions to these ideas. Generally, most of those who responded were the over-forties - probably because this is the group that has a certain feeling for tradition and history and interest in their 'roots'. The enthusiasm turned out to be contagious. People became interested because it helped to define their identity. And even the interest of the younger family members was clearly awakened by our activities. When we discovered that on August 14th, 1847, one Aaltjen Somsen had emigrated to America, we decided this would be an excellent reunion date to aim for. This, too, was greeted with enthusiasm and we were on our way..."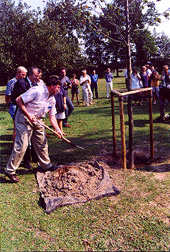 Committee
Because Theo and Derk had their hands full with writing and organizing the information, a reunion committee was set up under the leadership of Hans Somsen in June, 1996. After several meetings, a thick document was produced for 'actions to be taken', that included even the smallest of details - from the financial basis for a full and active program to the design of a logo; from a media plan to invitations for official guests; from meal planning, organizing host families and keeping track of registrations to working out ways of identifying people and setting up an information desk. It would involve a total program over several days and would eventually include no less that 450 people, more than 40 of whom would come from the United States!
The Book
The book turned out to be an attractively-bound volume of some three hundred pages, and it was given the title 'Somsen Omnes Generationes' (all generations). It was dedicated to "All those who would so have wanted to see the publication of this book". Two-thirds of the book consists of the 'Parentage per generation', in which each family member can trace his or her ancestors by using the expert, well-ordered material. The various Somsens written about in the book are entered with all relevant information, for as much as could be found - birth date, birthplace, profession, religious affiliation , baptism data, dates of marriage and death, number of children, etc. It is obvious that all of this genealogical information forms a valuable family reference book.
The story of 'How a farming family from the Achterhoek fared through the years' is given an important position in the section preceding the actual genealogy. In an entertaining yet well-documented way, the small history of a family is brought into relation to the larger history - of cultures, states and countries. The authors, Theo and Derk Somsen, begin their history at the beginning of our era so that, via the Saxons, the Franks and 'Christianization', they arrive at the origins of Aalten and its hamlets during the Roman times. Aalten plays an important role in this family's history because in the hamlet of IJzerlo, there is mention (as early as 1609) of a farm called 'Sompsstedeken' - believed to be the origin of the name Somsen.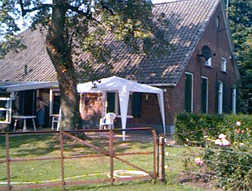 The first Somsen
As the story comes around to Aalten, records of the family also appear as the first Somsen is mentioned in 1633. As an intermezzo, the authors then return to the larger (Dutch) history with 'the golden age of Holland' (17th century), the 18th century, the Reformation and the Napoleonic time. But the threads keep leading back to the Achterhoek and the family, because the effects of political, economic and religious developments also have an influence on the direct surroundings of the Somsen farms.
An important development in the family's history occurs in the first half of the 19th century. Following the lead of German farmers, those in the Achterhoek decide that they, too, want to leave behind unemployment, high prices, heavy taxation and religious difficulties by emigrating to the 'land of limitless possibilities'. In 1835, the first two families leave Aalten. Between 1844 and 1847, no less than 10% of the Aalten population trade their native country for a new one: the United States of America. There are also Somsens among the emigrants. In 1847, Aalten Somsen and her husband, Dirk Jan Rikkers keave Holland. Together with about ninety other 'Aalteners', they arrive on October 26th, 1847 in New York. From there, at least some of the journey to Wisconsin must be made by ship. And that ship was the Phoenix. At about 25 km before its destination of Sheboygan, the Phoenix sinks. There are 25 Dutvh immigrants who survive the disaster, but so far, it is not clear whether Aaltjen Somsen and her family are among them.
In spite of this tragedy - which, at first, slowed down the emigration flow somewhat - the farmers of Aalten continued leaving their country for America, where everything seemed to be so good. Among these immigrants was the wooden shoe maker, Hendrik Jan Somsen, Aaltjen's brother. In the book, he's called the 'patriarch' of the family. He established the name Somsen in the U.S. and his descendants make up the most extensive Somsen branch currently known in America. Following this patriarch, a few more Somsens would emigrate - among them, Jan Hendrik Somsen, who arrived in Baldwin, Wisconsin in 1881. He and his wife would have fifteen children, making them the largest Somsen family. On November 1st, 1889, he became an American citizen and he died in 1929. The Somsen branch that they founded is known as 'the 1881 branch' in the book. These Somsens are primarily the ones who have continued to hold onto their links with the Aalten family, meaning regular contacts and visits back and forth. The book mentions that, since the waves of emigration, those in the Achterhoek have become more mobile. This resulted in various 'branches' being spread over The Netherlands. Seven Somsen branches were established abroad, with the biggest one in America. But there are also Somsens in Germany, New Zealand, Canada, Portugal, Greece and Ireland.
Not all Somsens were able to appear at the 'worldwide' family reunion in Aalten and Lievelde, Holland . In the United States, there are at least 250 Somsens and of those, about forty traveled to the Netherlands. Seven people came from Canada to the reunion, four from Germany, one from England and two from Portugal, Switzerland, Belgium, Norway, Ireland, Italy and Spain. Registrations were coming in right up to the last day before the family festivities.
The reunion
From this far flung Somsen family, many were able to travel to the Dutch Achterhoek in August of this year to take part in the reunion organized by the Dutchmen. Most of them had never been to Europe before. The family 'meeting' of some 450 participants opened in the festively decorated open air museum, 'Erve Kots' on a slightly ceremonious note - there were speeches and the official presentation of 'the book' the first copy was offered to the 86 year old Gerda Somsen. A professionally-made video film was also shown that illustrated the family history. Two 'first copies' of the film were presented to two Americans - Mrs. Marieke Edwards-Jager Gerlings of Olympia and Mr. John Howard Somsen of Holyoke, as 'collector of dollars' and 'Internet guru', respectively. The latter had a major responsibility in promoting the book and reunion worldwide, making it possible for more than forty Americans and Canadians to attend. With his Internet homppage, John Howard had contact with Somsens worldwide, allowing them to react to his news and then funneling this extra information through to Holland. He was the United States information center. During lunch, there was a 'Somsen market' that included a fenealogy stall (where individual family trees could be made), and a stall with Somsen t-shirts and stickers, as well as demonstrations of traditional handiwork such as wooden shoe-making, carpentry, all types of fine arts and activities for collectors. During the Happy Hour, many contacts were made for life. First meetings, surprises, emotions. And...gratitude for the 'wonderful inheritance' that was given us.
Sompen
Some of the highlights of the extensive program that was spread over several days: the memorial gathering in the St. Helena Church in Aalten - not specifically intended as a church service, but many felt it to be so. Then there was the planting of the Somsen linden tree and the unveiling of a commemorative plaque at the Japikshuis in IJzerlo - this is where Aaltjen Somsen started her journey to Wisconsin 150 years ago. The tree was planted by Stephen Duncan Somsen of Edmonds, Washington, whose great-great-grandfather left here for the United States in 1851. His grandfather had visited this spot in 1923 and his father in 1962, accompanied by the then 12 year-old Stephen Duncan. After the official family days, a great many people continued the reunion with various activities. A fascinating part of that was the excursion through the Vragenderveen - a conservation area. It turned into a 'somptocht' (swamp journey) in which many could experience for themselves how it felt to go through swampy terrain and, at the same time, to come into direct contact that the Somsens got their name.
The research done by retired businessman Derk Somsen and active internal revenue director Theo Somsen produced about 3900 Somsens. The entire family, including all its branches and generations is now in the computer. Everyone can check the Internet site to see if the genealogy needs any revision. Five hunderd copies of the book, 'Somsen Omnes Generationes' have been published. Of those, there are still a few dozen left.
What happens next?
Fourteen days after the event and the organizers are still trying to wind down. After so many months of preparations and running of such a tremendous reunion, there's a letdown feeling now. Theo Somsen is one of those who still receives mail from all over, once again writing of 'unforgettable days'. A general circulation letter is being prepared and a report by John Howard, as well as various newspaper articles can be seen on the Somsen website on Internet. Theo: "I've also heard a number of voices saying things like, 'Now it's our turn in America...'. And I've already suggested that the year 2001 wold be a good date to aim for since it would then be 150 years since the first name-bearer emigrated to the U.S."
In the meantime, ideas have already emerged for establishing a 'Somsen Foundation'. Although family 'business' can be updated and followed on the Internet, there is still some need of other studies. There are still unanswered questions, such as: Who was the patriarch of the German branch? Or, is there a relationship between Japikshuis and the Jacobus shrine at Santiago de Compostela? There's still a lot to research. Theo: "The initiative for the Family Book and the reunion led to a great deal more. It all had a much bigger impact than any of us thought it would. A family history like this is also an appreciated subject. You're able to clear up a lot. And you can safely say that everyone has added a lot of family. Even at the reunion, it happened that people from the area who knew each other by sight, discovered here that they were actually family. You've released a lot of things here and that's why I think that you really can't just stop with a financial settlement and an evaluation. People want to keep up with various things now and a new involvement has been created between people. Addresses have been exchanged, contacts have been made... We're almost compelled to arrange the next reunion..." For the Dutch organizers, the follow-up work will still take some time. And more correspondence will take place. Also through the Internet. And if, in fact, something is planned to happen in the U.S. in 2001, you can't get started too early. Time just speeds by, even if you can publish developments in a beautiful book...
For information you can contact:
Theo D. F. Somsen
Hindenhoek 11
8172 AV Vaassen,
the Netherlands
Tel.: 31 578 572867
E-mail: Somsen.Dj@net.HCC.nl
Source: DIS-Magazine, November 1997
The DIS-Magazine is a publication of the DIS-Dutch International Society of The Netherlands.
The Secretariat of the DIS-Netherlands is located at:
Joubertstraat 49, 2806 GA Gouda, The Netherlands.
All correspondence by letter to this address.
Fax or e-mail at:
o fax: +31 182 528250
o E-mail: DISNED@PI.NET
Donations or sponsor monies are welcome in any amount.
The magazine is sent to everyone who makes a minimum donation of fl. 30,-, US$ 15,- or CAN$ 20,- by transfer to VSB account number 835503534.
In the USA and Canada, the following must be stated:
Beneficiary Bank: VSB Bank, Utrecht, The Netherlands (Swift VSBUNL2u).
De Somsensticker werd geslerd met 'de groenen boom' uit het wapen van Aalten, welke waarschijnlijk is ontleend aan een alleenstaande lindeboom in het dorp die diende als 'gerechtsboom'.
Tekst: Sietzo Dijkhuizen
Foto's: Ben Somsen
Enkele honderden Nederlanders en Amerikanen hebben er sinds kort (veel) familieleden bij...! Een jarenlange zoektocht naar de oorsprong en de geschiedenis van de familie Somsen door Nederlanders, een boek en een reŁnie hebben er voor gezorgd dat men nu veel andere leden van hun familie kent. Of tenminste, van hun bestaan op de hoogte is. De familie Somsen: een duidelijk wereldwijd netwerk.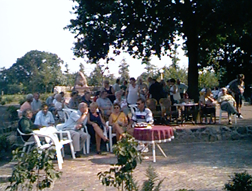 Toen belastingdienst-directeur Theo Somsen (1945) uit Vaassen een tiental jaren geleden begon aan enig genealogisch snuffelen dreef hem vooral nieuwsgierigheid. Wie waren zijn voorouders. Waar lagen zijn 'roots'...? Een treffen van familieleden bij een begrafenis leerde hem dat er 'ergens' nog iemand bezig was met genealogisch speurwerk. Telefonisch contact leidde tot een ontmoeting met Derk Somsen, vergelijking van elkaars gevonden materiaal en tot het besluit samen mťťr te doen. Het werd het begin van een gigantisch karwei met als 'kroon' de totstandkoming van een fors, tweetalig boek en een familiereŁnie, waarover honderden mensen nu nog praten en schrijven.
"Het was begin december 1993 dat het plan ontstond om het beschikbare materiaal over de familie Somsen te vervolmaken en er iets over te publiceren, een genealogisch verhaal dus", vertelt Theo. "Samen met Derk, een familielid dat goed thuis is in genealogisch speurwerk, hadden we naar schatting zo'n tweederde wel compleet. Het genealogisch materiaal zou in een boek moeten komen en om dat idee te realiseren begonnen we in september 1995 aan een mailing, want inmiddels beschikten we ook over een groot aantal adressen van Somsens. Daarbij ging het in eerste instantie om het aanvullen van de aanwezige gegevens. In januari 1996 zijn we ook gaan peilen of er interesse was voor een boek over de lotgevallen van de familie Somsen en misschien een reŁnie, want daarover was hier en daar al vaag een gedachte naar voren gekomen. Dat leverde een hoop enthousiaste reacties op. Over het algemeen waren het vooral veertigplussers die reageerden, kennelijk hebben die toch een zeker gevoel voor traditie en geschiedenis en interesse in hun 'roots'. De interesse wekte ook aanstekelijk. Mensen kregen belangstelling omdat hun identiteit duidelijker werd. En bij jongeren is de sluimerende interesse stellig door onze activiteiten gewekt. Toen we ontdekt hadden dat op 14 augustus 1847 ene Aaltjen Somsen naar Amerika was geŽmigreerd, leek ons dat een mooie richtdatum voor zo'n familiereŁnie. Ook dat sloeg aan en toen werd het menens..."
Commissie
Omdat Theo en Derk de handen vol hadden aan schrijf-en ordeningswerk werd een reŁniecommissie gevormd, die onder leiding van Hans Somsen in juni 1996 aan het werk ging. Er kwam, na enkele vergaderingen, een lijvig document voor 'te ondernemen acties' waarbij aandacht was voor zelfs de kleinste details. Van de financiŽle basis voor een uitgebreid programma tot het maken van een logo, van een mediaplan tot het uitnodigen van officiŽle gasten, van het zorgen voor maaltijden en gastgezinnen en bijhouden van aanmeldingen tot het bedenken van herkenbaarheid en het inrichten van een info-balie. Het zou gaan om een totaalprogramma van enkele dagen voor uiteindelijk maar liefst zo'n 450 mensen..! Daarvan kwamen er ruim veertig uit de Verenigde Staten.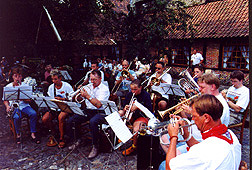 Het Boek
Het boek werd een fraai gebonden werk van ruim driehonderd pagina's en kreeg de titel 'Somsen Omnes Generationes' (=alle geslachten). Het werd opgedragen 'Aan allen die de verschijning van dit boek zo graag zouden hebben meegemaakt'. Van het boek bestaat tweederde uit het 'Parenteel per generatie', waarin de zoeker over zijn of haar voorouders zeer gedegen ogend, namelijk zeer vakkundig geordend materiaal kan vinden. De diverse Somsens die er in voorkomen worden, voor zover dat was te vinden, genoemd met alle relevante gegevens, zoals geboortedatum, en -plaats, beroep, kerkgenootschap, doopdata, huwelijks- en overlijdensdatum, aantal kinderen, etc. Deze genealogische gegevens vormen aldus een waardevol familienaslagwerk.
Het verhaal 'hoe het een Achterhoekse boerenfamilie is vergaan in de loop der tijden' krijgt een belangrijke context in het aan deze genealogie voorafgaand gedeelte. Daarin wordt op een onderhoudende maar gedegen gedocumenteerde wijze de kleine geschiedenis in relatie gebrachte met de 'grote', die van volken, staten en landen. Die geschiedenis laten de auteurs Theo en Derk Somsen aanvangen bij het begin van onze jaartelling, zodat men via Saksen, Franken en 'Kerstening' uitkomt bij de oorsprong van Aalten en zijn buurtschappen in de Romeinse tijd. Aalten speelt namelijk een grote rol in deze familiegeschiedenis omdat in de buurtschap IJzerlo de boerderij het 'Sompsstedeken' voorkomt en deze boerderij (met als oudste vermelding die van 1609) geldt als de oorsprong van de naam Somsen.
De eerste Somsen
Daar begint het verhaal dan ook de familietrekken te vertonen, want men komt hier de eerste Somsen, in 1633, op het spoor. Als intermezzo wordt daarna weer teruggegrepen op de grote (vaderlandse) geschiedenis, met 'gouden eeuw', 18e eeuw, en de Reformatie, de Napoleontische tijd waarbij toch steeds weer de zijlijntjes worden getrokken naar Achterhoek en familie, omdat de gevolgen van politieke, economische en kerkelijke ontwikkelingen ook in de directe omgeving van de Somsenboerderijen hun invloed hebben.
Een belangrijke ontwikkeling in de geschiedenis doet zich voor in de eerste helft van de 19e eeuw. Naar het voorbeeld van Duitse boeren willen ook Achterhoekers werkloosheid, hoge prijzen, zware belastingdruk en kerkelijke moeilijkheden ontvluchten door te emigreren naar het 'land van de onbegrensde mogelijkheden'. In 1835 vertrekken uit Aalten de eerste twee gezinnen. Tussen 1844 en 1847 verruilt niet minder dan 10% van de Aaltense bevolking het vaderland voor een nieuw thuisland: de Verenigde Staten van Amerika. Ook Somsens vertrekken. In 1847 emigreren Aaltjen Somsen en haar man Dirk Jan Rikkers. Met ongeveer negentig andere Aaltenaren arriveren zij op 26 oktober 1847 in New York, vanwaar de reis naar Wisconsin voor een deel moet worden afgelegd per schip. Het wordt de Phoenix. Op ongeveer 25 km voor de eindbestemming Sheboygan vergaat dat schip. Wel overleven 25 Nederlandse immigranten de ramp, maar tot nu toe is het niet duidelijk geworden of onder hen ook Aaltjen Somsen en haar gezin behoorden.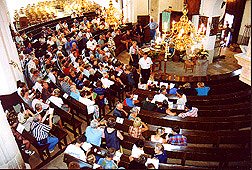 Ondanks deze tragedie, die aanvankelijk wel de emigratiestroom iets afremde, blijven Aaltenaren vertrekken naar Amerika, vanwaar zulke gunstige berichten komen. Onder hen ook de klompenmaker Hendrik Jan Somsen, broer van de in 1847 vertrokken Aaltjen en in het boek 'de aartsvader' genoemd: hij vestigt de naam Somsen in de V.S. en de meest uitgebreide Somsen-tak die op het ogenblik in Amerika bekend is. Na deze 'aartsvader' emigreren nog enkele Somsens. De in 1881 in Baldwin, Wisconsin arriverende Jan Hendrik Somsen krijgt met zijn vrouw vijftien kinderen en vormt het grootste gezin binnen de Somsenfamilie. Hij wordt op 1 november 1889 Amerikaans staatsburger en overlijdt in 1929. De Somsen-tak die zij stichtten, wordt in het boek 'de 1881-tak' genoemd en het zijn vooral deze Somsens die de band met de Aaltense familie blijven onderhouden. Het leidt tot geregelde onderlinge contacten en wederzijdse bezoeken.
Het boek vermeldt dat sinds de emigratiegolven de Achterhoekers mobieler zijn geworden. Daardoor ontstonden diverse 'takken', verspreid over Nederland. In het buitenland ontstonden zeven Somsen-takken, waarvan de Amerikaanse de grootste is. Voorts komen Somsens voor in Duitsland, Nieuw-Zeeland, Canada, Portugal, Griekenland en Ierland.
Op de 'wereldwijde' familiereŁnie in Aalten en Lievelde verschenen niet alle Somsens. In de VS wonen zeker 250 Somsens en daarvan kwamen er ongeveer veertig naar Nederland. Uit Canada kwamen 7 mensen naar de reŁnie, uit Duitsland vier, uit Engeland ťťn en uit Portugal, Zwitserland, BelgiŽ, Noorwegen, Ierland, ItaliŽ en Spanje twee. Tot op de laatste dag voor de familiefestiviteiten kwamen er aanmeldingen binnen.
De reunie
Van de zo over de wereld verspreide familie Somsen is een aantal in augustus van dit jaar naar de Nederlandse Achterhoek gereisd om deel te nemen aan de reŁnie, die door de Nederlanders was georganiseerd. De meeste van hen waren nog nooit in Europa geweest. In een feestelijk gemaakte entourage van het openluchtmuseum 'Erve Kots' begon dat familietreffen met zo'n 450 deelnemers een beetje plechtig met toespraken, de officiŽle presentatie van 'het boek' en het aanbieden van 'het eerste exemplaar' aan de 86-jarige Gerda Somsen. Ook vond de vertoning plaats van een videofilm die familiegeschiedenis professioneel in beeld bracht. Van de gemaakte kopieŽn werd een 'eerste exemplaar' aangeboden aan twee Amerikanen, mrs. Marieke Edwards-Jager Gerlings uit Olympia en mr. John Howard Somsen uit Holyoke, die respectievelijk als 'inzamelaar van dollars' en als 'Internet-goeroe' een belangrijk aandeel hadden in het wereldwijd promoten van boek en reŁnie, waardoor er ruim veertig Amerikanen en Canadezen aanwezig konden zijn. Internet speelde een grote rol, omdat John Howard met zijn homepage Somsens kon laten reageren op zijn nieuws en de daarbij verkregen extra informatie gemakkelijk kon doorspelen naar Nederland. Hij was het informatiecentrum voor de V.S. Tijdens lunch, 'Somsen-markt' (met onder andere een genealogiekraam waar men individuele verwantschapsoverzichten kon laten maken), verkoop van Somsen-T-shirts en stickers, en een 'Happy Hour' leverden werden vele kontakten voor het leven gelegd. Ook kon men kennisnemen van traditionele zaken als klompenmakerij, timmermanswerk, kunstenaarsuitingen en verzamelaars activiteiten. Ontmoetingen, verrassingen, emoties. En...dankbaarheid, voor de 'prachtige erfenis' die men kreeg toebedeeld.
Sompen
In het uitgebreide programma voor meerdere dagen waren daarnaast als hoogtepunten genoteerd: de herdenkingsbijeenkomst in de St.Helenakerk in Aalten, niet als zodanig bedoeld maar door velen toch ervaren als een kerkdienst, het planten van de Somsenlinde en het onthullen van een gedenkplaat bij het Japikshuis in IJzerlo, van waaruit Aaltjen Somsen 150 jaar eerder naar Wisconsin was geŽmigreerd. De boom werd geplant door Stephen Duncan Somsen, uit Edmonds, Washington, wiens over-over-grootvader in 1851 van hieruit naar de VS vertrok. Zijn grootvader had de plek in 1923 bezocht en zijn vader in 1962, vergezeld door de toen 12 jaar oude Stephen Duncan. Na deze officiŽle familiedagen werd door een groot aantal mensen de reŁnie voortgezet met diverse activiteiten. Een boeiend onderdeel was de excursie door het Vragenderveen, een natuurbeschermingsgebied. Het werd een 'somptocht', waarbij menigeen kon ondervinden hoe het voelt om door een 'zompig' terrein te gaan en aldus heel direct met de oorsprong van de naam Somsen geconfronteerd te worden.
De speurtocht van gepensioneerd bedrijfsleider Derk Somsen en actief belastingdienstmanager Theo Somsen leverde 3900 Somsens op. Het geheel van de diverse takken en generaties is uiteraard inmiddels ook opgeslagen in de computer en via Internet kan iedereen nagaan of de genealogie nog aanvulling behoeft. Het boek 'Somsen Omnes Generationes' is gedrukt in een oplage van vijfhonderd. Daarvan zijn er nog enkele tientallen exemplaren voorradig.
Het vervolg
Veertien dagen na het evenement moeten de organisatoren 'afkicken'. Na zoveel maanden van spanning in de voorbereidingen en de realisatie van de grote reŁnie valt er een gat. Theo Somsen is een van degenen, die nog steeds overal vandaan post krijgt waarin nog eens wordt herinnerd aan 'onvergetelijke dagen'. Een algemene rondzendbrief is nog in voorbereiding en op Internet verschenen op de Somsen Website van John Howard een verslag en de diverse krantenartikelen die zijn gepubliceerd. Theo: "Er zijn ook stemmen opgegaan in de sfeer van: Nu zijn wij aan de beurt in Amerika... En ik heb al gesuggereerd, dat het jaar 2001 een goede streefdatum zou kunnen zijn omdat dan de eerste naamdrager 150 jaar geleden naar de VS kwam."
Inmiddels wordt ook gedacht aan de oprichting van een 'Somsen-Foundation'. Want weliswaar kan de stand van familiezaken worden 'bijgewerkt' op Internet, maar er zou ook ruimte moeten zijn voor bijvoorbeeld deelstudies. Er zijn nog onbeantwoorde vragen. Zoals: Wie was de stamvader van de Duitse tak? Of: is er een relatie tussen Japikshuis en het Jacobus-bedevaartsoord Santiago de Compostela? Er valt nog veel te onderzoeken. Theo: "Het initiatief voor het Familieboek en de reŁnie heeft tot veel geleid. Het kreeg allemaal een veel grotere impact dan we hadden gedacht. Het is ook een dankbaar onderwerp, zo'n familiegeschiedenis. Je verheldert veel. En je kunt wel zeggen: iedereen heeft er veel familie bij gekregen. Zelfs op de reŁnie kon het gebeuren dat mensen uit de streek die elkaar wel kenden van gezicht, hier ontdekten dat ze familie van elkaar waren... Je hebt ook veel losgemaakt en daarom denk ik dat je eigenlijk niet kunt stoppen met een financiŽle afwikkeling en evaluatie. De mensen willen nu dingen bijhouden, er is een nieuwe betrokkenheid ontstaan, men heeft adressen uitgewisseld, contacten gelegd... Er moet dus haast wel een vervolg komen..." Voor de Nederlandse organisatoren zal het nawerk nog wel enige tijd vergen. En er zal toch ook nog wel weer gecorrespondeerd worden. Ook via Internet. En als inderdaad in 2001 in de V.S. iets moet gebeuren, dan zal men daar toch niet al te laat aan beginnen. De tijd gaat snel. Ook al kun je ontwikkelingen vastleggen in een fraai boek...
Als u geinteresseerd bent kunt u contact opnemen met:
Theo D. F. Somsen
Hindenhoek 11
8172 AV Vaassen,
the Netherlands
Tel.: (31) (0)578-572867
E-mail: Somsen.Dj@net.HCC.nl
Bron: DIS-Magazine, november 1997
Het DIS-Magazine is een uitgave van de Stichting DIS-Dutch International Society-Nederland.
Het Secretariaat van DIS-Nederland is gevestigd op het adres:
Joubertstraat 49, 2806 GA Gouda.
Alle correspondentie bij voorkeur via brief- of fax- of E-mailverkeer.
o fax: 0182 - 528250
o E-mail: DISNED@PI.NET
Donaties of sponsorgelden zijn welkom tot elk bedrag.
Het magazine wordt toegezonden aan iedereen die een donatie van minimaal fl.30,-, US$ 15,- of CAN$ 20,- overmaakt op VSB-bankrekeningnummer 835503534,
t.n.v. DIS-Nederland, Louis Armstronglaan 42, 2324 LH Leiden.
In de USA en Canada moet vermeld worden:
Beneficiary Bank: VSB Bank, Utrecht, The Netherlands (Swift VSBUNL2u).